It's recently dawned on me that I can't get that trust balance right. I want to be trusting, but I think the worst. I can ask a stranger to watch my things while I go to the bathroom, but I guarantee that seconds later I'm envisioning my identity being stolen, my laptop being trashed and someone trying to insert their genitals into the USB port in some bizarre sex hate crime. It's an emotional razor edge.
Apparently, the people closest to you set the benchmark when it comes to our ability to trust. My family were the litmus test for the rest of society. Unfortunately for me, they were also people who lied for sport and couldn't be trusted as far as you could collectively throw them.
My dad used my trust as the set up to his jokes. Like the time he bought me a bucket and spade before taking me to a pebble beach. Or the time he made us watch Aliens promising us that a clown was about to pop out of  John Hurt's stomach. Our tears gave him more than our trust ever could. In return we got nightmares.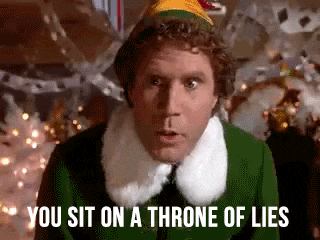 My sister learnt from the best and continued my dad's experiments. Each lie was a toe in the pool of my credulity to see how deep it went. Could she convince me to slide down a bannister to jab me in the arse with a pin? Could she hang me from a curtain rail by telling me she wanted to see how long my hair was? Yes, yes she could. I deserved to lose that hair.
Even my mum had her moments. She wasn't mean, just out of her depth and filled with wives tales. My favourite being that I needed to cover myself in turmeric if I wanted to get rid of unwanted hair. Some fun facts about turmeric: it has no depilatory qualities and stains skin bright yellow. It was like highlighting the hair.  
Trust works paradoxically. You only figure out that you can't trust someone by trusting them. By then you're locked under the stairs, looking like a hairy Lego and clutching a bucket and spade.
Even so, I continue to put my faith in people. It's easier than burying my stuff in the sand like a Samiad, or having a catheter put in. Most of the time I'm pleasantly surprised. When you were imagining someone spitting in your coffee, the only way to go is up.